Welcome to B-Balanced Fitness Studio. I am thrilled to see you and your search for weight loss ends here. I am looking for busy people who are seriously looking for a body transformation. It is my passion to get people results without strict dieting, calorie counting or many hours in the gym. Our online programmes can easily be followed by anyone anywhere. But heres the thing…. 
I could lose 14kg of body fat because I decided to start. So go ahead, take your first step by applying, and I am with you to help you achieve your weight loss goal. I promise! 🙂 
Nisha Jadhav
B-Balanced Fitness Coach
B-Balanced Transformation Program is Design for You
Being overweight and tired. It Makes you just so exhausted and Depressed.If You Desperately looking for results. We can help you for this.
Enroll Me For Fitness Program
Know More about this Program
Trainer rating

4.5/5
Start My Online Training
15 Days Trial Pack
✓ Basic Exercises
✓ Diet Plan & Routine
✓ Free Handbook
Know More
4 Weeks Training
✓ Advanced Training
✓ Diet Plan & Monitoring
✓ Weightloss Program
Know More
12 Weeks Training
✓Premium Training
✓ Diet Plan & Routine
✓ Body Analysis
Know More
Transformation Stories at B-Balanced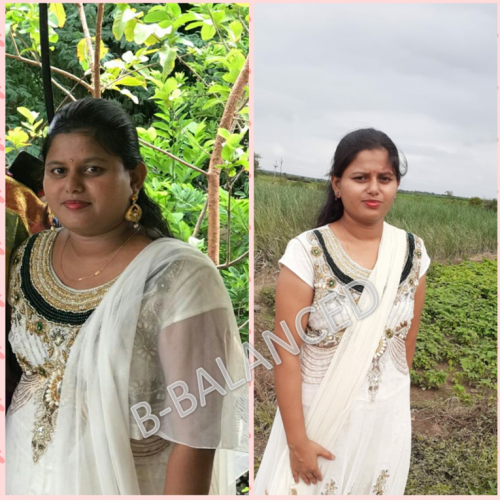 "If you have strong willpower then everything is possible. After finishing my graduation, I started gaining weight because of unwanted snacking, outside junk food and no exercise. I started having health issues like acidity, leg pain, tiredness and drowsiness because of being overweight. I tried to lose weight by walking but didn't get good results as l didn't know about food and exercise. In Diwali vacation I started a weight loss programme and without any excuse I followed exercise and diet and nutrition support and lost my 15.5kg weight. I am very grateful to Nisha ma'am because of herI improved my lifestyle and gained confidence towards life. Also I am sure that I can maintain my weight throughout life during the festive season and family functions also. I learned different types of workout and now i am enjoying all healthy routines."
Ms. Priyanka Hajare lost 15kg Weight
"Hello Everyone, I Pankaj Velapure lives in Akluj and runs my own business of Hardware shop. I used to wake up very late in the morning, irregular eating habits and most of the time consuming outside food. I was gaining too much weight. Because of being overweight I was always feeling laziness, swelling on my feet and face. When I visited to BBalanced club, I decided to join a weight loss program and with the help of a proper diet plan, exercise routine, good nutrition support I lost my 18 kg weight. Now I am feeling very energetic and happy. Thank you Nisha Ma'am and BBalanced team."
Mr. Pankaj Velapure lost 18kg Weight
"Hi everyone,I am Bhagyashri Kale feeling very happy to share with you my transformation story of 12kg weight loss. By background I am a part time tuition teacher. Because of being overweight I was suffering some health issues like laziness, low energy level, tremendous stress, mood swings etc. So I found a B-Balanced fitness studio near my house. I met Nisha ma'am and with her proper guidance and healthy diet plan and proper workout I lost 12kg of extra weight. I changed my lifestyle totally. In this weight loss journey, I realized that" weight loss is not just what u eat and what u burn, but it's the life change program that you gained". Finally I reduced 12kg with full strength & now I am feeling so happy and energetic. thanks to b-balanced. I choose right way to do my transformation and what about you…"
Mrs. Bhagyashri Kale 12kg weight loss
"I'm Nisha Ingale working as a wellness coach. Before my transformation I was a housewife and mother of a 3 years old child. After delivery I gained weight, actually every lady faces this problem but I neglected and gained weight day by day. I wanted to lose my pregnancy weight desperately. Plus weight gain was creating some health issues like hyperacidity, joint pain, laziness, low energy levels, mood swings, no enthusiasm, etc. One day I came to know about the weight loss program. I started a healthy active lifestyle including daily exercise, healthy eating patterns and good nutrition. I started losing weight.With my coach guidance, I lost my 14kg weight and finally achieved my ideal weight. Thanks to my wellness coach who guided me."
Mrs. Nisha Ingale lost 14kg weight
"Hello I am Vidya Deokar, After the family planning operation in 2012, I started gaining weight and also started back pain and knee pain. Weight gain made me feel very uncomfortable and others saw how I was looking too much fat.  Then I decided to join a gym or yoga. One day my son brought a pamphlet of   B-Balanced Fitness Club, then I said let's see what it is. And then the next day I went there and checked up with 80 kg. I was shocked.Then Wellness Coach Nisha ma'am gave me better counseling and said "Good nutrition & Proper Diet and Exercise can make this weight loss possible". In fact, looking at her, I was inspired that I wanted to become like her and then I joined immediately. In a very short time, I lost 18kg of weight. And right now I am feeling just awesome."
Mrs. Vidya Deokar lost 18kg of weight
"My name is Kiran Anpat. I have a business of Exide care shoppee and workshop . I had been facing lots of difficulties of weight before the transformation and because of that, I was getting tired most of the time. I was facing many problems in my daily routine because I was about to 110kg. But one day, one of my friend suggested about weight management program.  I went to Nisha ma'am and they guided me about Diet plan, exercise, nutrition etc.Then I just started program.  After one week, I felt like I am loosing my weight and also observing nonscale results and inch loss Within short duration I have lost 15kg then I realise importance of diet and exercise also. Nisha ma'am supports me a lot that's why I could do this properly. Thank you BBalanced team."
Mr. Kiran Anpat lost 15kg of weight
Results are not typical. Individual results will vary. 
Click here to Begin Your Journey
ARE YOU ???

✓ Struggling to lose weight, stubborn fat and inches? 
✓ Want to know "how" to lose weight and maintain it instead of just getting a "one-time" plan? 
✓ Want a real "coach" who you can speak with from time to time rather than following a pre-designed programme? 
✓ Too busy to spend time in the gym or cook separately for yourself? 
✓ Struggling to learn how to enjoy social settings with your spouse, family, or friends without feeling the guilt of falling off track? 
✓ Just feeling confused with "Yes carbs or no carbs, Do I really need protein, My metabolism is slow, Should I do cardio or weights, Do I eat 2 times a day or 4 times a day" … we'll tell you what is fact, vs fiction for YOU! 
✓ Sick and tired of looking at awesome bodies on Instagram and feeling frustrated? 
✓ Looking for guidance, support and encouragement rather than some challenge or magic diet? 
✓ If you've answered YES to any of these questions, we want to speak with you!
✓ If you qualify, we'll hold a brief 1-1 call to discuss your future, and determine if this is the right fit for you. Just click below to apply!